Juice extractors, juicers, juicers, adapted cooking robots … juice machines are on the rise. They surf on the trend of home made while responding to a health problem. Panorama of solutions to make fruit and vegetable juices without moderation.
Centrifuges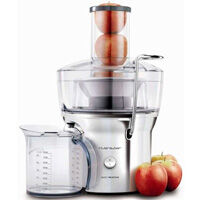 The centrifuge is the traditional device for preparing fruit juices. A fast-running motor drives a knife that rasp the fruit. Juices and pulp are extracted via a sieve. This very fine filter is usually metallic. The pulp can either be extracted continuously (in a tray) or remain in the filter. It is then necessary to stop the device periodically to empty the pulp.
Price range : from 40 to 300 €
The +
The –
Generally high noise level
Vibrations of the device in operation
Force to exert on the pusher to press the fruit against the grater
Potentially tedious maintenance
Vertical juice extractors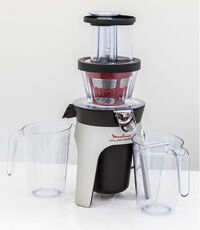 Vertical juice extractors appeared a few years ago. They use the principle of the worm to crush the fruit and extract the juice. This juice is then filtered via a sieve independent of the worm.
Price range : from 80 to 600 €
The +
Noise level is generally low (since they turn slowly)
The –
Slow extraction of juice
Height of the device and therefore food introduction
Potentially tedious maintenance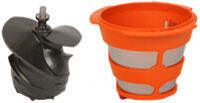 Horizontal juice extractors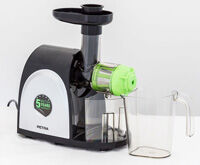 Horizontal juice extractors follow in the footsteps of vertical juice extractors. They operate on the same principle of worm, except that the filter and the screw are in horizontal position.
Price range : from 100 to 600 €
The +
Noise level is generally low (since they turn slowly)
Lower feed introduction height
Generally less tedious maintenance
The –
Slow extraction of juice
Visibility in the tray (juice or pulp) located under the worm
Greater space on the work surface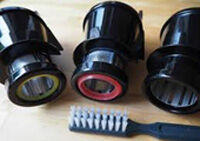 The juicer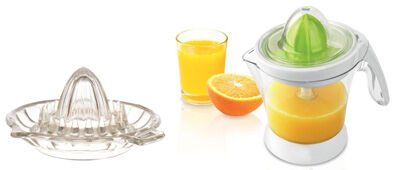 Juicers and juice extractors can make citrus juices after peeling them. But more suitable apparatus for citrus fruits also exist, electric or manual juicers.
Price range : from 10 to 150 € for electric juicers
The +
Low or no sound level for manual juicers
Simple maintenance
Low price
The –
Monotasks devices limited to citrus juices (oranges, lemons, grapefruit, clementines …)
Other juice devices
Whether they are multi-function, pastry or cooker, some models of kitchen robots can accept a juicer or juicer. Either this accessory is standard, or it can be added as an option. Its rotational speed may be different from an independent juicer or juicer, offering potentially different results.
Finally, other devices are surfing the wave of juice extractors:
nutrient extractors (Nutribullet, Magic Bullet, for example);

blenders (especially for smoothies);

professional blenders or "super blenders", more powerful (Vitamix, for example).